The Karai Sealink is a Highway bridge connecting [of Karasem] with Sultanate of Bangorai'. The bridge itself contain 3 types of span (Causeway, Suspension (Karasem Side) and Cable Stayed (Bangorai' Side)).
Description
Edit
Karai Bridge is an iconic landmark of both countries, connecting
Karang Asem
,
Karasem
and Pamang Buri,
Bangorai'
. Spanning
South China Sea
. Karai bridge extend 27km which 24km in causeway, 1.3km in suspension, and 1.7km in cable stayed.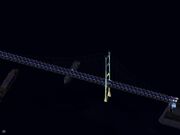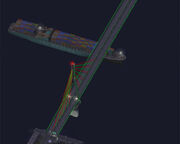 Karai Bridge built from April 2001 by the both countries and recently finished in December 2010. The opening itself done in 21 December 2010. By the bridge completion the time of a trip from Pamang Buri (Bangorai') and Karang Asem (Karasem) has been cut from a 6 hr ferry ride to less than 45 minutes.
Karai Sealink is a part of Singapore-Bangorai Highway connecting Singapore-Batam(id)-Bintan(id)-Meriah(rk)-Cibebek(rk)-Jaya(rk)-Bangorai.
Karai Bridge Visitor Center
Edit