Image:PortFrancAces.jpg


Logo of the Aces
Overview
Edit
The Port Franc Aces were founded in 1999 after the Saxony Governorship League disbanded its old club, the Port Franc Privateers. Since that time, the SGL has been the only league the Aces have played in, although they have won the Governor's Cup twice, and got the East Conference Champions title 3 years in a row.
In 2010, after the Tirnreich's independence, the Aces are part of the Imperial Football Federation. The club has been accepted into the AIFF Devine Premiership, and is one of only 3 Tirnlander teams to be featured there.
The Aces' home stadium, Spade Plaza, is currently being proposed to the Port Authority. The current design can seat 56,000 spectators, and would have a multitude of parking on-site in parking garages.
Until the stadium is accepted and finished, the Aces play in Sudfeld Imperial Stadium.
The Aces logo is a play off of the common myth that port workers often skip shifts to play cards in abandoned warehouses, along with the true fact that many port workers are card sharks.
The design is simple; the four Aces of different suits are placed in a fan formation, with the Ace of Spades in front, all colored black, white, and gold. The Club name is present at the top.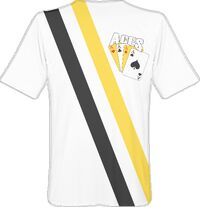 There is currently no mascot for the Port Franc Aces.