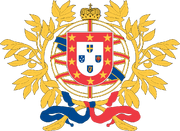 The Treaty of Singapore was the central pillar of the agreements that led to the independence of Calaré in 2001. The treaty was negotiated over several months in 2000 and was agreed to by Australian, Calaréann, New Zealand and Singaporean representatives on 22 May 2000. With the formal signing of the treaty, the Civil War was brought to an end. The treaty was voted on by the people of Calaré on Saturday, the 21 August 2000 and was approved in a number of special districts that would go on to form Calaré.
Provisions
Edit
The provisions of the treaty can be roughly summed up in six key points:
That the constitutional future of Calaré should be determined by the majority vote of its people alone.
That there was a commitment by all parties to exclusively peaceful and democratic means for resolving any future dispute.
That as soon as the writs for the referendum were returned, and if the vote was in favour, there would be an transitional government established with devolved legislative powers.
That there would be a intergovernmental council to bring about cross-border cooperation in policy and programs on a number of issues, and ensure the future enforcement of the treaty.
That within two years all prisoners belonging to organisations observing the ceasefire and the spirit of the treaty would be released. Furthermore, those members of the militia not going on to join the Calaréann Defence Force would be demobilised and their weapons decommissioned within three months.
That there would be either a full demilitarisation of all Australian military bases in Calaré, or the facilitation of their handover to the Calaréanns, all of which would occur within a year.
Referendum
Edit
For more, see 2000 Referendum.
On the 21 August 2010 there was a referendum held in all areas of Central Tablelands, Central West Plains, Illawara and South Coast of New South Wales to endorse the Treaty. The negotiations had allowed for the division of Calaré into ten special districts created by grouping a number of local government areas, which were based on boundaries used before the local government amalgamations of the early 2000's. In the area that would form the core of Calaré, the vote was carried easily. The "No" vote came predominantly from from those outer areas that had not been affected by the fighting and violence of the Civil War. However, a large number of people outside the core of the Calaréann area also voted "Yes".
Immediately after the vote, allegations of vote rigging and lost ballot boxes surfaced. In areas where it had been expected the vote would carry - Lithgow-Mudgee and Harden-Yass, these allegations were the strongest. In Harden-Yass the vote failed 54.5% to 45.5%, while in Lithgow-Mudgee, the final vote was a much closer 50.2% to 49.8%. Later investigations by the Calaréann government after independence could not find any firm evidence of vote rigging of either of these districts.